Winner of the best facial aesthetic device, the HydraFacial continues to be a favourite of the celebrities. This brand new breakthrough in aesthetic technology replaces traditional dermabrasion and removes dead skin cells and impurities while simultaneously bathing the new skin with cleansing, hydrating, and moisturizing serums. Hydrafacial effectively and safely improves skin quality by increasing its thickness, repairing the dermal matrix and delivering beneficial antioxidants. This treatment is like no others to treat acne. Plus it is painless and without side effects.
Unlike Botox or other invasive methods, HydraFacial is a non-injection treatment. Your face regains its freshness without the artificial facial features and stiffness resulting from traditional Botox.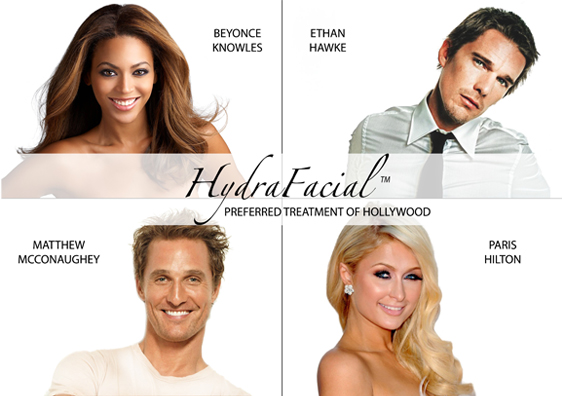 How does the treatment work?
HydraFacial's Vortex technology is the only one combining hydradermabrasion, cleansing, exfoliation and hydration with antioxidant protection. Contrary to other skin rejuvenation treatments such as IPL and dermabrasion, the HydraFacial technology provides an exceptional hydration of the skin combined with soothing and toning care to generate immediate and long-lasting results.
Which areas can be treated?
The HydraFacial treatment is for women and men alike, whatever their skin colour. It helps to reduce the following skin problems:
Oily Skin
Dry or Dehydrated Skin
Acne
Clogged Hair Follicles Pores
Excessive Sebum Secretion
Blackheads
Whiteheads
Furrows
Wrinkles and Fine Lines
Brown Spots
Hyperpigmentation
Obstructed and Dilated Pores
Dull or Irregular Complexion
Sun Damaged Skin
The treatment takes about 30 minutes. It is relaxing and totally painless. Here are the steps:
1. Cleansing and Exfoliation using an Hydropeel patented nozzle that removes dead skin cells to reveal a fresh and healthy skin without any irritation.
2. Peeling (using glycolic/salicylic acid) to clear the skin from its impurities, and smooth skin pores without irritation.
3. Deep and Pain-Free Extraction of blackheads and whiteheads, sebum and other debris in the skin pores using the Vortex automated suction device.
4. Hydration: The whirling effect created by the Vortex-Fusion device allows antioxidants and hyaluronic acid to merge and penetrate the skin, thus nourishing and protecting it.
5. Phototherapy: Red LED lights are used to stimulate the formation of collagen and improve skin's elasticity and firmness. Blue LED lights are used for acne in order to control the proliferation of bacteria.
How many sessions are required?
HydraFacial provides a radiant and fresh skin, right after the first treatment. The skin remains smooth and hydrated for up to seven days after the treatment. A series of six treatments is recommended to improve the skin's appearance and reduce fine lines, wrinkles, hyperpigmentation, acne and oily skin. A treatment every three to four weeks allows maintaining the results.
When are the results visible?
Results are visible right after the first session.
The cost per session starts at $199 for the face.
(Individual results may vary)